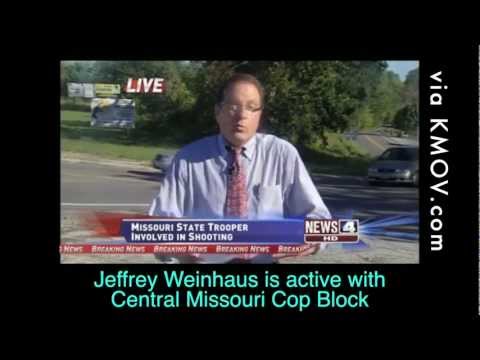 12:50pm September 12th, 2012:
I called Troop C of the Missouri State Highway Patrol to solicit more information about the incident that happened the day prior. Not too surprisingly, Al Nothum, the "public information officer", wasn't too public with the related information. Just imagine if this situation would have been different.
Do you think the names of the shooter(s) would have been withheld for so long? That the details surrounding an incident that caused a person to be airlifted to a hospital with two shots to the chest and one to the head would be summarized by saying a "confrontation" occurred? Might the shooter(s) in this incident be afforded double standards due to his place of employment?
It seems we have a developing story. Jeffrey Weinhaus [born October 6, 1966], a member of Central Missouri Copblock, has been gunned down by the Missouri State Highway Patrol. Jeff was working on and had a lot of info incriminating info on surrounding Leos and various departments.
A friend and I, that both knew Jeff personally, were discussing this event and this is what he had to say…
"He named highway patrol cops by name. we have been exposing them all. we have been physically trying to wake the masses and start this party before they do. they start it, its game over from the start. he was armed, that is true. he was very fucking scared, and wasn't leaving home without one. he was going to meet the troopers. there was no warrant, yet the news says there is, so meh. they called him there to meet and shoot him, and they did."
http://www.copblock.org/20857/jeffreyweinhaus/
Related posts: