Even thought it's been over a year since the bill HR4752 heatedly discussed we have heard little about it from the media. The bill states: "To provide for the common defense by requiring all persons in the United States, including women, between the ages of 18 and 42 to perform a period of military service or a period of civilian service in furtherance of the national defense and homeland security, and for other purposes." If this bill or other bills "related" to this bill are passed it will give president Bush or the next politician that steals the American vote for the presidency the power to draft all living in America whether or not they are a citizen into the military for a period of 2 years unless exempt. Note, there is not much in the way of explanation on what these exemptions are. So at this point in time it could be working mothers with several children to support will still get drafted.
I want to point out this bill has NOT gone away. If you believe this bill has run it's course and is dead and no longer an issue, think again. Many politicians have recently been suggesting the same thing and are now promoting this in their interviews, speeches and even at fund raisers. The video below of Jack Murtha is just one example of several. Wow, I almost feel like shouting "Sieg Hail"! I can see no reason to amass this kind of man power, less we are going to war with several countries at the same time. Are we ? Are we the bad guys now? I'd refer you all back to a previous post called "Bush to attack 7 countries in 5 years". General Wesley Clark (ret) states in an interview that the current administration indeed has a plan to attack 7 countries (that he identifies) in 5 years. You can watch the interview video here I thought you might want to contact your congressman about this to stop this crazy legislation before they take away our right to vote.
READ THE Military Draft Bill HR4752
Jack Murtha April 6th 2007 – Several Politicians are starting to bring up the national draft once again. Video of Jack Murtha in April of this year talking about the same thing he was opposed to back in 2006.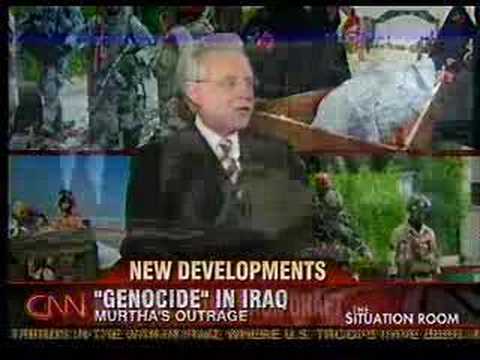 Tim Ryan Oct 2006 – The talk a year ago was not to try and disguise what this national draft really is.

Related posts: